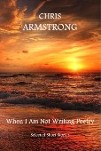 Working on down the contents page of my collection, When I Am Not Writing Poetry, we come to the sixth story in the collection, a collection of images or anecdotes,  'Totality'. This is a necessarily short introduction to a short exercise in writing. There are still 24 more stories to introduce, but we are moving along quite nicely in this month of short stories!
I saw this little collection within a collection as a series of 'postcards' – brief, almost pictorial, images of everyday happening. Not very exciting; not alarming; not perhaps even very interesting, but snapshots of life. Here is the first!
One day when I was young I was walking with my grandfather along a wide pavement on the hill leading to his house. We passed a young man who happened to have a blond beard.

If you ever grow one of those, I'll disinherit you, my grandfather said to me.

I didn't pay much attention at the time—for several reasons, mostly to do with age, it didn't seem very important.

Twenty years later I had a beard. Ten years after that my grandfather died. And I remembered his words.
'Totality' can be found in When I Am Not Writing Poetry – available here or on Amazon.