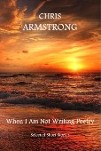 The nineteenth story in my collection of thirty, When I Am Not Writing Poetry, is 'Ladies of the Port' – another tale from my time at sea. An encounter in a foreign port and a misunderstanding quickly rectified! A short story means a short introduction!
One Saturday afternoon in Port Melbourne, where they were moored while waiting for a berth, a smart young man was to be seen standing at the foot of the gangway. He was accompanied by two very attractive young ladies. On spotting the deck officer near the top of the gangway he hailed him and asked if they might come aboard for a look round the ship.
'Ladies of the Port' can be found in When I Am Not Writing Poetry – available here or on Amazon.