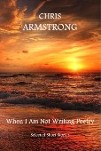 The twenty-second  story in my collection, When I Am Not Writing Poetry, 'Kinderszenen' once again inhabits the back stories – possible back stories – of characters from The Dark Trilogy. Kinderszenen is the name Schumann gave to a collection of 13 short piano pieces, and the documentary I mention in the first paragraph was in part about Schumann … each of the 13 names that he gave the individual pieces can be found hidden in my story! I imagine meeting those same three friends from primary school again in later life. How would our pasts have appeared… how would we appear, now?! Maybe they would even take on the shape of their contrived back stories!
He had been making notes at the time: sitting in the cafe trying to recall a documentary he had seen the previous evening and relate it to the short story he was writing. There were certain similarities… not similarities exactly, maybe echoes, yes echoes that he felt could be woven in. If the characters could use a borrowed phrase, show some erudition, that sort of thing, he thought. The couple at another table had been talking animatedly—loudly—for some time and, engrossed, he had managed to block out the sound. Until now. Until he heard someone say, That's absurd, Neil, it can't be him! And Neil—presumably—pushed his chair back and leaning towards the writer, said, You know, I didn't recognise you at first—the beard I suppose—but Jan did—she's right… we were at school together. You're… Jan shouted his name above the hubbub. And two of his characters were suddenly brought up to date. He was left wondering about the third.
'Kinderszenen' can be found in When I Am Not Writing Poetry – available here or on Amazon.