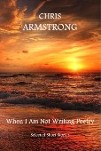 The twenty-fourth story in my collection, When I Am Not Writing Poetry, is 'The Poetry Reading' – not something that I often do as I don't think I do them very well and, unfathomably, have a knack of misreading my own lines! But this is a fiction – perhaps based on one of my readings, perhaps not! The short poem by Malcolm Lowry that I have quoted in full at the end shows that I am not the only poet to have problems with words!
I have never really liked giving readings of my poetry. I am not sure why. Perhaps it is partly that I sense that my speaking voice is not the mellifluous voice I hear in my head, does not have the timbre that the poems deserve—that it does not—in my humble opinion, as they say—present them well. I am not a natural performer! Or perhaps it is that I seem to possess a skill, which surely must be unique to any wordsmith: I have the ability to read aloud a line that I have read hundreds of times before, a line which I wrote, for goodness sake, and probably spent some time over—agonising over the perfect word and word order for the sound of the line—for my poems are certainly written for the sound as much as the words on the page—and misspeak the one word on which the line hinges!
'The Poetry Reading' can be found in When I Am Not Writing Poetry – available here or on Amazon.