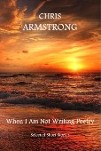 Working further down to the next story in my collection, When I Am Not Writing Poetry, we come to the ninth, 'The Friends'. Several of the stories in the collection revisit three friends who received brief mentions in The Dark Trilogy. The two boys and the girl were in fact friends from my primary-school childhood (although they are renamed in my writing) and in these stories I have created fictional back stories for them. 'The Friends' introduces two of them.
We find them at a post-graduation reception at a university which could almost be that of my home town. The girl is with her father and as they are joined by one of the boys, her father invited him to accompany them to a celebration dinner. Meanwhile, his daughter is having strange presentiments.
After the graduation ceremony following her Art History doctorate, she stood with her father looking out of the long windows of the reception area, across the campus, across the bay to the distant lighthouse lit by the slowly setting summer sun and wondered what she would do now. Well, not now. Now, with her life. She had been hoping that the university… but nobody has offered her anything yet. Maybe she should ask. Then there is her Dad. She thinks his business—the book binding—is failing; she hadn't seen much new work come in and she knows that the university has started recommending another bindery to its PhD students. She has no idea why. But she thinks that her father is depressed. Not tonight! Tonight he is the proud father, delighted in her success…
'The Friends' can be found in When I Am Not Writing Poetry – available here or on Amazon.