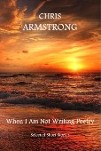 We are one third of the way through my collection, When I Am Not Writing Poetry and we come to the tenth story, 'Three Characters in Need of Their Writers'. The story is about three writers who are working together on a story line meeting up to discuss their work… or is it?
At the tenth of their regular meetings the three writers knew that they had reached an impasse. Their story was going nowhere. Roy and Celia were united, as they so often were these days, and Chris felt that their close relationship was holding the work back, was in fact destroying all the work they had already done. He was of course jealous of their bond. Of course he was; for years it had been he and Celia that had been that close, that had shared secrets, had had the same thought at the same time, that had seen the same story line; then there had even been a time when the three of them… Now, now there was no story line, he thought bitterly. And none of them could see a way forward. Except perhaps Roy and Celia who had their heads together on the other side of the table. He wondered what they were plotting—he was not sure any more if they were even talking about the work—the work he regarded as his work—the screenplay that he was currently thinking life had interrupted. Lacking conversation, let alone the discussion of the work that they were supposed to be having, his mind sank back into the plot.

It had been the three of them for so long, the three who had sworn those oaths of loyalty—of love really…
'Three Characters in Need of Their Writers' can be found in When I Am Not Writing Poetry – available here or on Amazon.