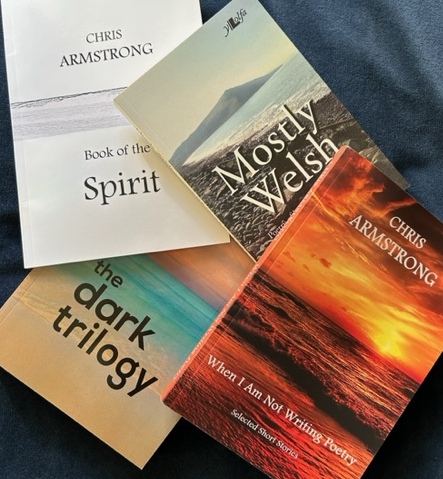 By now some readers will probably have noticed that there is a theme linking all of my covers: the sea, that "watery part of the world"(Moby Dick) that for some ten or so years was both the foreground and the background to my life as I served as a Navigating (or Deck) Officer in the New Zealand Shipping Company and Overseas Containers Limited, travelling mostly to New Zealand and Australia. Before that, my love of the sea was confined to teenage years of swimming, fishing and surfing on the Gower in South Wales. It was a good start!
Many of my poems (such as The Voyage in Mostly Welsh) deal explicitly with my time at sea while others in that collection simply use the sea as a metaphor (for example, Ocean and Lost). Even in Book of the Spirit, a poetry pamphlet focussing very closely on words, writing and love, the sea – and the horizon, another recurring them – find a way in. The first poem ends:
for a future, a new future, a better future, aware of time only in our memory until –
watching the sun sink below the horizon, time's illusory rim, and the vast sea

that is the circle of our future existence wash its unknown waves to our feet –
we understand the futility of the search, we understand each splash of destiny
And there will be – of course – sea poems in my next collection too. Heatherslade, previewed here, is specific to those Gower years while others – Tides, Shell, The Estuary and Thálassa, Thálassa are of other seas, other coasts, other horizons. The most recent poem published here – Life Tercets – brings together my life as a poet, memory, and my life at sea.
During Covid lockdown, my writing moved on to fiction and to The Dark Trilogy, which is autobiographical fiction: much of Book I is concerned with sea voyages and Book II is a play for voices covering my early years at sea as a Deck Cadet and young officer, from joining my first ship – an experience, like the first few trips, that was  quite unnerving to someone who had never left home before (see Innocence. posted here last November) – and ending when I left the sea forever.  
And then there is my recent short story collection, When I Am Not Writing Poetry Here there are a total of seven short stories set in the merchant navy: three short snapshots and four longer pieces: The Beginning, Cargo, The Sailing Board and Such Sweet Sorrow. I may speak a little more about these in a future post.
So I hope that  you will begin to understand the inevitability of my covers – they could only reflect my innate connection with the sea! Even Braiding Brexit is a deep sea blue! For the rest, there are waves, the vastness of the sea and the horizon!